A Not So Lovely Day In The Neighborhood
Neighbor complaints of the past fuel UPrep parking restrictions in the present
Plastered all over school-wide emails and Schoology posts, the Be a Good Neighbor Campaign kicked off the start of University Prep's 2022-2023 school year. While the campaign began in 2021, this year, regulations have more clearly been set in stone. Despite constant reminders of the campaign and its rules, some students struggle to understand the reason why certain restrictions have been set.
Although the campaign has impacted where she parks on a day-to-day basis, senior Juweriya Abdilahi feels that the student body has been left in the dark about the campaign's overall purpose and meaning.
"I mean obviously I know things like how we aren't supposed to park on Dahl or drive on 80th, but other than that I do not have the slightest clue of what the campaign means beyond its name," Abdilahi said.
Alongside the rest of the communications office, UPrep's marketing and communications director Mary Beth Lambert played a huge role in creating the campaign. For Lambert, the campaign serves as a reminder to the UPrep community to be mindful of the school's neighbors during the construction of the ULab.
"We created the campaign to build awareness in our community, students, parents, faculty, staff, and visitors to the campus, about the construction that's taking place across the street, and the limits currently on parking and street usage because of the construction," Lambert said.
The 2017 feature story "Growing Pains" published by the Puma Press highlighted the voice of neighbor Linda Martin-Morris. Martin-Morris felt that her contempt for the project was justified due to UPrep's failures to accommodate their neighbors.
"In short, I'm ok with change. I'd love a school as a neighbor. I'd even be ok with a private school as a neighbor," Martin-Morris said at the time. "But I want that school to act like a neighbor, with consideration and awareness of the needs of other neighbors."
In no way was Martin-Morris the only neighbor to harbor such concerns surrounding the construction. In the same feature story, an anonymous neighbor reported that they felt UPrep's initial approach was inconsiderate towards the members of the neighborhood.
"University Prep pursues a relentless quest for expansion and total disregard for my community. The proposed construction is completely inappropriate," the neighbor said.
Complaints reported to the city by neighbors about the construction led to the campaign's direction to restrict parking spaces and roads for students and staff. Jessie Compeau, a neighbor, expressed their worry in 2017 about the project's likely impact on traffic.
"There will be increased traffic in the area. We have concerns about student, pedestrian, and driver safety," Compeau said. "The study recommends discouraging students and staff from parking along 24th Ave NE west of the school."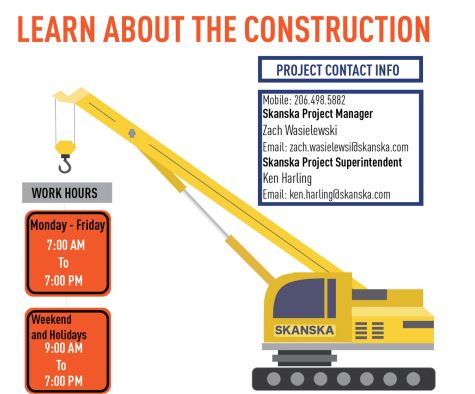 Neighbor Tom Lurino, who also filed a report to the city, agreed with Compeau; the main source of his disapproval towards the construction was the possibility of increased traffic in the area. For Lurino to accept the construction, UPrep would need to take specific measures to prevent such issues from forming.
"1. Develop and enforce an aggressive transportation demand management plan….2. Slow vehicle traffic on NE 80th St. between 25th Ave NE and 20th Ave NE. T,…3. Improve the pedestrian connections at both of the intersections of NE 80th Street and Ravenna Ave NE," Lurino said.
Given the historical opposition expressed by neighborhood residents towards the ULab construction, Director of Finance Susan Lansverk thinks that limiting the areas where community members can park and drive are vital to the progression of the project.
"Most of the complaints made by neighbors in the past were about how the construction would affect their way of living, things like parking," Lansverk said. "Also if we clog up the streets over there, it makes construction harder and it's not good for the neighbors. So it's really a win-win."
As for parking troubles, Lambert sympathizes with the frustrations students have expressed from having to implement changes to their morning routines.
"
I think that it is worthwhile to have this particular school in this particular area,
— Alfredo Arreguin
"Yes, I find it difficult to find parking as well. But then I tell myself, well, maybe I just needed that little extra exercise," Lambert said. "So I think it's really just about continuing to build people's awareness and understanding of why we're doing this and to help people build new habits on where they park and what streets they drive on."
As students, staff, and faculty members try to abide by the guidelines set by the campaign, they have grown quite familiar with the face of Martin Pawlina, the school's Director of Facilities and Safety Officer. Although he wasn't behind the creation of the campaign, Juweriya Abdilahi considers him the face of the operation.
"When I think of the be a good neighbor campaign, I think of Martin. Every morning I always see him out there directing traffic, making sure nobody drives on 80th, so whenever I want to go against the rules, I can't," Abdilahi said. "He is always there to hold me accountable."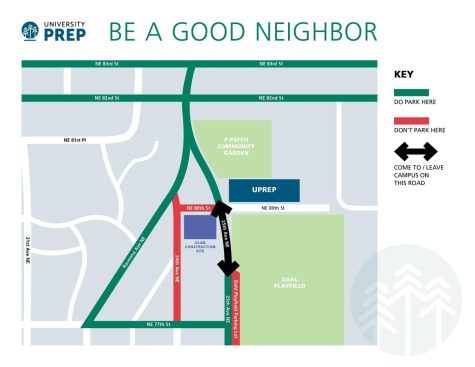 Pawlina's main involvement is redirecting traffic away from twenty-fourth and eightieth.
"Driving and parking along 24th and 80th will be very challenging once construction ramps up. There will be a lot of trucks and equipment coming and going," Pawlina said. "We are trying to direct traffic for the betterment of everybody. I haven't had any negative experiences with the neighbors or UPrep parents or students as we have been doing this."
Pawlina believes that the whole community can work together to aid in the Be a Good Neighbor Campaign.
"We all have to have patience and respect for each other," Pawlina said.
Although a number of neighbors in the past have expressed strong opposition towards the construction of the ULab, neighbor Alfredo Arreguin, who the Puma Press was able to contact through the school, has only had nice things to say about the project's progression. Arreguin's connection with the school's values and mission convinced him that it is important to support its expansion.
"
We created the campaign to build awareness in our community… about the construction that's taking place across the street.
— Mary Beth Lambert, Director of Marketing and Communications
"For a lot of people like me, school has been a place where students and kids could come together and see that a lot of these boundaries created by society don't really exist," Arreguin said. "I think that It is worthwhile to have this particular school in this particular area because seeing so many different faces from so many different backgrounds here, it really encourages me to continue to help and support schools like this being created and expanded."
Arreguin is not just a neighbor. He is also an artist with a significant presence in the Seattle art scene. Through his immense support for the project, Arreguin came to the decision to donate one of his art pieces to the school following the completion of its construction.
"I wanted to donate one of my pieces to the school after it's construction because although I really support the expansion because of how important I think it is to support places of education, I also just really liked how light and airy the construction design looked," Arreguin said.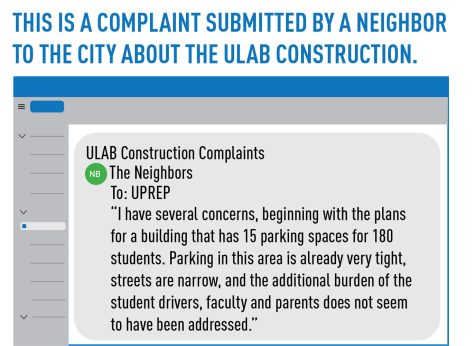 Statement as to why we did not interview neighbors ourselves:
With the exception of Alfredo Arreguin, all of our quotes from neighbors in this paper have been cited from outside sources and we were unable to reach out for a renewed comment. This is because Susan Lansverk, the Director of Finance, felt as though interviewing neighbors could potentially put a dent in the progression of construction as it would bring more attention to the issue.
"Getting the permit was very difficult for them and it was difficult for us. So when we finally did get the permit and could move on, our goal has been to very diligently try and be the best neighbor that we can be. We are trying very hard to even do more than we are required and wherever we can be as low impact as possible," Lansverk said.
Since University Prep is a private school, student journalism is not protected by the 1st amendment. Because of this if the administration or others ask that we do not publish a certain thing or interview a certain person, we must comply.