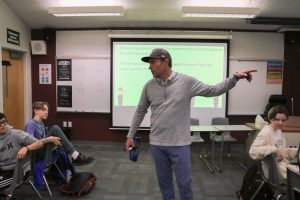 This year, while we're all relaxing on our day off for Veterans Day, history teacher Damin Bauer will be in Washington, DC.
"I get together with five soldiers from my unit every year," Bauer said.
Bauer has been teaching at University Prep for nine years. He served in the Army Reserve in Fort Meade, Maryland from 2001 to 2010."We started the tradition of meeting up with each other on Veterans Day 2005 after we returned from deployment from Iraq that same year," Bauer said. "It was a way for us to connect and have a safe place to talk about our shared experiences and how we were dealing with them."
This year, Veterans Day falls on a Saturday, but at UPrep, there will be no school on Friday, Nov. 10.
"When I first got here at UPrep the school was not off for Veterans Day, and I asked the former head why we didn't have it off," Bauer said. "I eventually convinced him to honor our Veterans and make it a day off from school."
Bauer's initiative to make the change has positively impacted the school and subsequent UPrep veterans such as english teacher Mawee Aguon.
"Last year and this year was the first time I've ever had a Veterans day off. So I don't ever actually know what to do," Aguon said.
This is Aguon's second year teaching at UPrep. She served in the Army as a field officer from 2016 to 2020 and was stationed in Fort Sill, Oklahoma, as well as Fort Hood, Texas.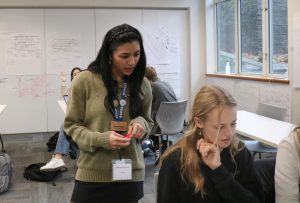 Having a day to commemorate people who served our country is a way we can honor the sacrifices they have made.
"Veterans Day is significant to me and many others because it celebrates and honors all these amazing people from all over, for their patriotism, willingness to serve and the sacrifices they made and are willing to make for the good of their country and others," Aguon said.
Serving in the military transformed how she approaches leadership in the classroom.
"Because I was in charge of so many people, it changed how I taught people, how to prioritize other people's needs, how to organize everything," Aguon said.
Being in the military is something that most Americans have not experienced. Therefore, it can be difficult to fully comprehend the challenges of serving.
"Society, people who have not been deployed, they don't really understand what it's like," Bauer said. "They can watch movies and they can read books, but it's totally different."
The physical and mental challenges of serving are part of why veterans deserve so much recognition: because they are willing to put themselves at risk for their country.
"Above all else, it is a sacrifice. People give up their time, both time for themselves and time with their families, and sometimes their lives, to serve," Aguon said. "It's hard on veterans mentally as well as physically. And I think it's important to validate and honor those sacrifices."
UPrep's inclusive environment can expand into a culture around celebrating veterans. They have done what many people cannot and served something greater than themselves.
"Everyone should try to do something to give back but it doesn't necessarily mean serve," Bauer said. "Just doing something to make the community and the nation better."