After an undefeated regular season, the University Prep boys varsity tennis team took home the title of 1A Emerald Sound league champions in October for the 11th time in school history.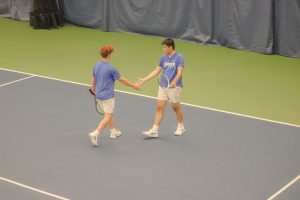 The team won all 11 regular season games, including six sweeps, in which they won every singles and doubles match on the day.
Jack Angelone, co-captain of the team, thought the season was really fun.
"We had a really good team this year, so a lot better than always losing," Angelone said.
"It was pretty surreal coming off of my sophomore year where we were below .500, going into my junior year with a bit more success," Kian Baghai, senior and co-captain said. "Then having a team this year that just dominated week in, week out, went 11 – 0, and rarely struggled."
This season, however, the team's dominance was not fully expected by the players.
"I knew we would be a lot better than last year, I thought we had good talent coming in from the freshmen, and we had a good squad that had been with the team for a few years," Baghai said. "So I knew we were going to build off the success from the year before, but didn't consider going undefeated." "Going in, I didn't really know anyone on the team," ninth-grader Parker Hulse said. "So even though I'd heard they were pretty good, I didn't expect us to be this good."

Baghai and his co-captain Angelone shared similar views about the reasons behind the team's success.
"The three freshmen on the team have all been amazing and very integral parts of the team," Baghai said. "It's been great as a captain to help them grow and to interact with them. They're all such skilled players and huge assets to the team, both this year and as they grow into leadership roles. They are a huge part of the reason we were so successful."
"The freshmen helped us a lot," Angelone said. "They add a lot of skill, but also they're just great people. They're funny and goof around with us."
Even Hulse had to acknowledge the buzz around the ninth-graders.
"It was super cool for the other freshmen and I to be able to help add value to the team," Hulse said. "The value being just bringing some fresh energy and adding some extra talent."
"Tennis is such a mental game," Baghai said. "It's often just you out there on the court."
Due to the mental toughness of tennis, being able to keep the mood light on the team is very important.
"The group is really goofy, so we have a lot of fun," Angelone said.
Angelone feels as though being a captain for the team works well for him.
"It's a fun role for tennis because of who I am. I'm goofy and like to joke around with the guys but can also make things serious when they need to be because," Angelone said.
Even though they like to keep it light during practice, it's important for them to be leaders at the same time.
"Being a leader to me means keeping people focused at practice but also having a fun vibe so that practice is fun and competitive but also still focused," Baghai said. "Same thing during warmups, keeping people focused on the task at hand and not getting distracted or underestimating a team based on standings. Just always going in 100% and keeping a good vibe."
In mid-October, both Hulse and Angelone and his partner Brandon Liu finished as runners up in their respective championship matches. As a result, they both advance to state, held in Yakima in May, where they will play a district rematch.