A Mental Misconception
Unpacking the underlying causes of data linking gender and mental health
Senior Lauren Hwang began struggling with her mental health in the beginning of her freshman year. Her day-to-day life was constantly disrupted by anxiety and depression.
"It really affected me physically because I remember I couldn't go to sleep and stuff because I was so anxious," Hwang said.
Hwang saw that she was not alone in this struggle, commenting on how prevalent stress was at her old high school, which was an all-girls school.
"It was very normalized to be struggling with mental health, and I feel like a lot of people were really struggling," Hwang said. "Basically everyone seemed extremely stressed all the time."
A recent report from the Centers for Disease Control and Prevention showed that Hwang's experience is becoming the norm. According to a study released this year with data from 2011 to 2021, poor mental health and suicidal thoughts and behavior are generally increasing fornearly all teenagers.
More specifically, the report saw a dramatic increase in the worsening mental health of teenage girls. Approximately three in five U.S. teen girls felt "persistently sad or hopeless" in 2021. Along with this, almost 25% of girls made a suicide plan — double the number of boys.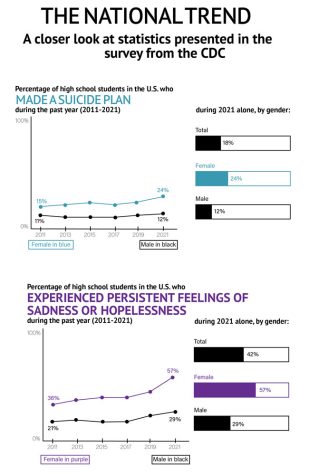 The CDC reported that the increase in the mental health struggles of girls is a 60% jump from 2011 and the highest level reported over the last ten years. Senior Claire Renschler shared about her struggles with mental health in response to the pandemic.
"I had been experiencing symptoms of depression that I had never felt before," Renschler said. "I noticed a lot of my peers were, as well, and didn't really know how to combat that."
Junior Alexa Carlisle believes that one reason girls especially struggle with their mental health is due to the body image issues they experience.
"I think that social media and just the modern time that we're in has created an impossible beauty standard for a lot of women," Carlisle said. "It's hard to live up to that standard and that can affect daily life and daily mental health and everything."
Renschler feels that her gender impacts how open she is about mental health.
"Where it was a challenge for me was often the narrative that women are emotional and dramatic," Renschler said. "And feeling like my own emotions or changes in mental health were a result of that and kind of feeding into that narrative."
Counselor Lindsay Metcalfe shared that the CDC report lines up with who she sees in her office.
"Historically, girls do identify higher rates of depression and anxiety," Metcalfe said. "Girls are more likely to seek support, and so they're more likely to receive that diagnosis and treatment."
However, data from the Authentic Connections survey that University Prep students took last fall suggests that gender impacts mental health differently, with boys and non-binary people struggling more.
Metcalfe thinks that often there's more of an expectation for girls to manage the emotions they are having.
"Whereas boys, the pressure is more to conceal the fact that you are having emotions at all," Metcalfe said. "So girls have more permission to show their feelings, but they need to not be out of control with them."
According to the Authentic Connections survey, boys and non-binary people across the entirety of UPrep reported clinically significant symptoms of anxiety and/or depression above the national norm, while girls reported these symptoms less than the norm.

Though he occasionally talks about it with his close friends, junior Beruk Sims feels that boys have less of a culture around mental health discussions in general.
"From my experience, women that are not as close can have those conversations much easier compared to men who are the same level of closeness to each other," Sims said.
Senior Zack Lagunoff feels that this is connected to the messages boys receive from society.
"There's such a stigma around mental health and talking to counselors and talking to your friends about what you're really going through," Lagunoff said. "I think there's only so much that UPrep can do specifically, and I think it's a greater issue that they probably can't solve."
Metcalfe agrees that the stigma boys face around mental health stems from a larger issue.
"We, as a society, socialized boys to be less aware of their emotions in general," Metcalfe said. "I also think that we don't do as good a job building boys' emotional vocabulary and awareness and giving them tools to manage their emotions."
Metcalfe also commented on the high rates of anxiety and depression symptoms among non-binary UPrep students.
"We do, nationally and at UPrep, see elevated rates of depression, anxiety and other mental health concerns in folks who fall outside of the gender binary," Metcalfe said. "However, I think sometimes that is interpreted as if you are trans or non-binary, you automatically struggle with your mental health, and that's not the case."
While the Authentic Connections survey had data on the mental health trends of non-binary teens, the CDC report did not. The report was broken down by sex, rather than gender identity. However, senior Adam Fisher shared their own struggles with mental health as a non-binary person.
"You can be perfectly mentally healthy and genderqueer," Fisher said. "But most of us do struggle with our mental health because we got the short end of the stick societally."
Fisher's experience of existing outside of the gender binary has limited the resources available to them.
"Being genderqueer, being trans, being marginalized in these ways, affects our mental health because we don't have the systematic social support," Fisher said. "Everyone else has an existing and clear and visible framework from which to develop their sense of self and their mental well-being."
Renschler believes that one way to tackle some of the mental health barriers that non-female students face is by hiring a non-female counselor.
"I know we have three female-identifying counselors of other races and ethnic backgrounds," Renschler said. "I think we can diversify the resources we have."
Sims agrees that the lack of a male counselor impacts who accesses those resources.
"I think a male counselor would start a very big shift within the culture of the school because then guys would kind of see a role model that has those conversations," Sims said.
Counselors Cindy Taketa and Andrea Moore explained that, because of the national shortage of therapists, it is extremely difficult to hire male counselors. The profession is female-dominated, so male counselors and counselors of color are very sought after. However, Sims still thinks that UPrep is doing its best to create a culture where boys can talk about their feelings.
"I think it's always going to be limited just because UPrep is a sheltered community within a larger society," Sims said. "At the end of the day, even if there's a space for men to talk about their feelings, there are huge boundaries and limits of what that can actually look like."
Sims believes that a change in the culture surrounding boys' mental health can begin with the students.
"Guys should ask other guys how they're doing in a genuine way that starts a conversation," Sims said. "When they hear the 'I'm good,' don't take that as the end of the conversation."
Poll results collected from Authentic Connections survey conducted at UPrep in the fall.
Graphics: Sydney Goitia-Doran, Eliza Barton, and Mira Hinkel
About the Contributors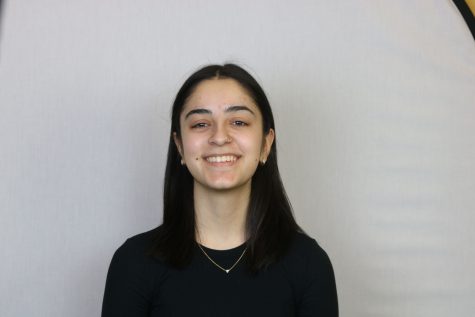 Mira Hinkel, Reporter
Mira Hinkel is a staff member of the Puma Press, and this is her second year on staff. She enjoys writing news stories and covering student life. Her favorite...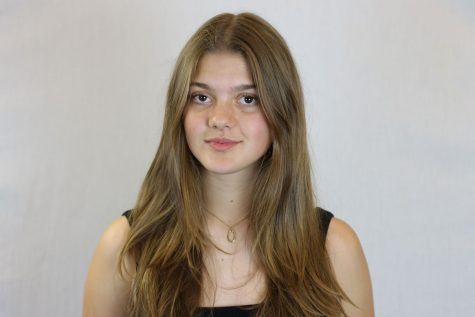 Eliza Barton, Photo Editor
Eliza Barton is the photo editor of The Puma Press and is new to staff this year. She enjoys writing stories that spotlight students and writing news stories...