ChatGPT or CheatGPT
Students and teachers weigh the impacts of ChatGPT
With assignments piling up, students are turning to a recent technology development for an easy way out: ChatGPT. Chat Generative Pre-Trained Transformer, also known as ChatGPT, is an AI-powered conversational model created by OpenAI that generates responses to any given input. When artificial intelligence can answer any given question and write original essays, some students find the resource to be too tempting.
"If there's an assignment that doesn't seem worth my time, and I'm already fine in the class, I'd just use ChatGPT," an unnamed Student A said. 
The Puma Press is choosing to keep these student's identities anonymous to protect them from possible repercussions of cheating. When Student A used ChatGPT on his history essay, he scored higher than some of his peers. 
An anonymous Student B uses ChatGPT as a tool to support his writing and help in the brainstorming process.
"It can come up with some really good interpretations of things that you might not get yourself," Student B said. 
To show students the work that ChatGPT can create, English teacher Angie Yuan has made some additions to her classroom teaching students the limitations that the software has in comparison to human writing.
"Every time I ask my students to write a paper, I'm going to ask ChatGPT to do the same prompt, and I'll post it in my room," Yuan said.  
Yuan wants students to understand what they are getting out of their assignments.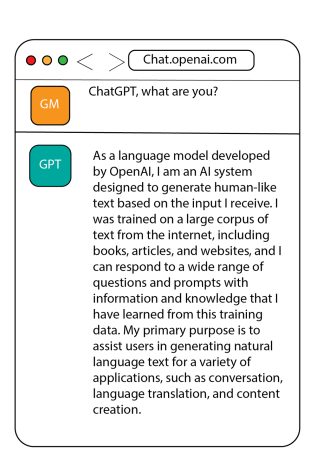 "ChatGPT is misleading because it confuses students into thinking we are looking for the product, when we are looking for the process," Yuan said.
 While ChatGPT is a daunting problem for educators around the world, teachers find the issues created by ChatGPT as an opportunity for growth.
"To be optimistic, I believe that ChatGPT can make us better teachers," Yuan said.
Director of Upper School Joel Sohn also believes there are benefits to the system, as it forces UPrep and other institutions to change their outlook on education. 
"We just have to reckon with a technological advancement that is pretty powerful and address what we as teachers value in terms of doing something, rather than the regurgitation or the replication of something," Sohn said.
In an email to Upper School students and families Sohn shared the new philosophy the English and history departments have adapted in response to ChatGPT and other forms of AI.
"It is our firm belief that students best develop their writing and thinking skills—and their own personal voice—by completing the work of the writing process without depending on the external aid of artificial intelligence tools, which can undermine discovery, self awareness, and growth," Sohn wrote. 
The free version of ChatGPT is available to everyone, but also offers a paid subscription. Student B believes the free option is helpful, especially for those who can't afford other academic tools already available.
"I'm paying for Grammarly premium, which is pretty decent, but [ChatGPT] could do just about anything Grammarly does," anonymous Student B said. 
As an English teacher, Yuan agrees with the benefits that ChatGPT can provide to students.
"I think a lot about equity, and I think a lot about how ChatGPT can help you organize your thoughts and help you do the initial work of getting things down, which at our school, a lot of tutors do," Yuan said. "It bothers me to say 'Oh nobody could use ChatGPT,' but still allow the use of tutors."
Yuan recognizes that ChatGPT is not a perfect system, as it appears to lack the humanity of a student and craft of a writer. 
"The more you ask it and the more specific it is, the more it can seem to generate this kind of stuff, but I don't feel like there is a person behind it. It does feel like it is collecting information and giving it back to you," Yuan said.
According to Student A, the aid that ChatGPT provides varies class by class.
"In English they're asking questions that reflect your personal experiences and things that relate to you, so we can't really use it in English at all," Student A said.
On Feb. 8, Listen Engage Acknowledge Discuss (LEAD) held conversations for students to discuss this new policy and draft statements that they would insert into the new philosophy regarding ChatGPT. 
"
We just have to reckon with a technological advancement that is pretty powerful and address what we as teachers value in terms of doing something, rather than the regurgitation or the replication of something.
— Director of Upper School Joel Sohn
"We thought it would be something that would encourage a lot of discussion and engagement, and also be helpful for people so that they can take time to think about something that was really impacting us," senior and LEAD Executive Claire Crawford said.
In the discussion, students reflected on ChatGPT and the ethics of cheating. 
"We try to pick topics that people will want to talk about, and it's very relevant to our day to day lives as students," Crawford said. 
A faculty advisor was present in each room for the discussions, which Student A believes impacted its authenticity.
"It was a bit bland because I feel that since there were adult facilitators and teachers in the room, it made people more hesitant to actually say what they believed," Student A said. "When you put adults in a room and you're talking about cheating, you're not going to get any answers."
As students become accustomed with artificial intelligence, Sohn worries about students gaining dependance on artificial intelligence and its consequences.
"We're probably going to lose some diversity of thought, some diversity of voice, some creativity," Sohn said. "That's the danger."