New Face From a New Place
Meet UPrep's new head of academics
This April, Head of School Ronnie Codrington-Cazeau announced University Prep's new Assistant Head of School for Academics, Ed Billingslea. Billingslea's role will differ slightly from Richard Kassissieh's, who held the position previously.
"As Head of Academics, my primary responsibilities will be to work with our division directors and department chairs on our curriculum," Billingslea said. "I will be collaborating closely with integrating learning and the library."
Billingslea was drawn to the strong community and academic programs at UPrep.
"I feel like UPrep has a strong curriculum model that really reflects the community," Billingslea. "I'm interested to see how I can come in and enhance that."
According to Codrington-Cazeau, the hiring committee chose Billingslea because of his experience at the Greensboro Day School.
"We chose Ed because he had already been an assistant head of school [at Greensboro] and is training to be a head," Codrington-Cauzeau said. "We all thought he would be a great addition to the community."
Codrington-Cazeau believes Billingslea will be an asset to the community because of his ability to connect with others.
"Something unique about Ed is that he started his teaching career as a guidance counselor, which allowed him to engage personally with the community," Codrington-Cazeau said. "It was really exciting to see the way students and faculty reacted to meeting him."
Senior and Black Student Union leader Jamila Abdilahi had the opportunity to interview Billingslea, who identifies as African American, during the hiring process.



"I was really looking forward to getting to talk to someone from a more diverse background," Abdilahi said. "He had a really easygoing personality, which made it easy to talk to him."
Abdilahi is also excited about the increased representation in UPrep.
"I'm glad to see more people that look like me having positions of power at my school," Abdilahi said. "It really felt like we were being heard as members of the BSU."
Billingslea hopes to prioritize inclusivity in education as he steps into his role next year.
"It is really important to me that learning is accessible to everyone and that everyone has a sense of belonging that relates to their community," Billingslea said. "In terms of the curriculum, that means making sure we are studying diverse innovators and educators in every subject."
Codrington-Cazeau hopes Billingslea's background from North Carolina will bring fresh ideas to the community.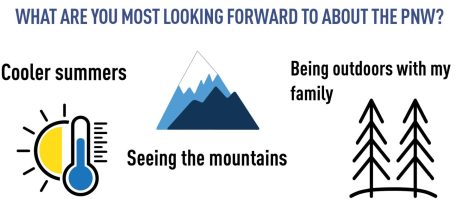 "Culturally, he's a southerner, so he brings a perspective from outside of Seattle," Codrington Cazeau said. "This will allow us to see what schools are doing in other parts of the country and how we can continue to grow our academics."