Pumas Get To Work
This summer, University Prep is hiring students for work on campus. During the construction of the ULab this summer, the facilities department will bring in rising juniors and seniors to help out. According to Director of Facilities Martin Pawlina, hiring students during the summer program is something he has been doing for a long time.
"We have been hiring students for about 13 or 14 years now. Minus the last two years because of COVID," Pawlina said.
The work consists of basic maintenance."They will be helping us paint, landscaping, pressure washing, moving some furniture," Pawlina said.
He believes that these skills are important things to know how to do.
"I think it is a good part of rounding out your education," Pawlina said. "It's a practical part of your education as far as I am concerned. You learn lifelong skills, you learn how to do basic maintenance on your home."
"
It's a practical part of your education as far as I am concerned. You learn lifelong skills, you learn how to do basic maintenance on your home."
— Martin Pawlina
The job can be rewarding in the long run as well.
"We had students come back and share that because they were working with us here, now they got the job at a college managing a bunch of students working in the summertime," Pawlina said.
In order to be hired, an applicant must either be a sophomore or junior. According to Pawlina, the rest of the process is simple.
"I just send out an email [to the eligible students] and within it is what the job is about and I ask two quick questions: 'Tell me why you want to work here,' and 'What kind of experience do you have?'" Pawlina said. "Then we will meet in person and chat about it for a little bit. If we decide to hire you, then you will go through the official hiring process."
He also added that the hourly rate is substantial.
"Because it's Seattle, you end up getting paid a lot of money at $17.25 an hour," Pawlina said.
During the school year, the athletic department employs a substantial amount of students as well. Director of Athletics Rebecca Moe hires students for a variety of jobs, including coaching, photography and game operations.
In the fall for the Middle School's D3 boys soccer team, Moe experimented with hiring seniors Kellen Davis and Phin Mahlum as coaches. She said it was successful because Middle Schoolers could see the seniors as role models.
"The kids really liked them, and I could watch as the 15 sixth graders would see Kellen and Phin during the day and be like 'hey coach,' Moe said. "It was cool for the sixth graders to know these 12th graders."
Since then, Moe has hired more seniors to coach other Middle School teams.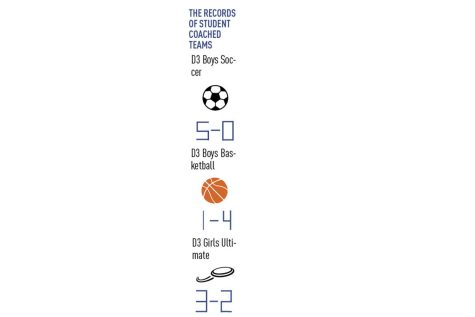 She has also hired students to be ingame workers. Moe has them work at basketball and volleyball games.
Recently, the students were eager to help at a Middle School track meet UPrep hosted.
"UPrep was tasked with hosting the long jump pit. No parents volunteered. No teachers volunteered," Moe said.
Instead, she reached out to senior Harry Rothman and juniors Zach Lagunoff and Payton Habel and asked if they could do it.
"They said 'Sure Moe give us the stuff,'" Moe said. "And they were great."
While the athletic department can hire anyone, Moe believes it is beneficial to employ students who are familiar with athletics at the school.
"It is not some outside person who doesn't know where to find the broom or where to get the score clock," Moe said. "They know the coaches. It is kind of like a community feel which is great."