A Condensed Season
Three seasons take place during the spring
This year, University Prep student athletes are competing in fall, winter and spring sports are all within the normal spring season.
After nearly a year without athletics, coaches and athletes are grateful to have a season.
"Cross country was the epitome of what cross country is at the heart: lots of tough uphills and fast downhills [and] comradery of teammates and competitors cheering each other on to finish strong," varsity cross country coach Kayla Robertson said.
Varsity soccer coach Alec Duxbury echoed similar feelings. Due to a small turnout for girls soccer during the modified fall season, there was just one team.
"We had players of all ability levels together in one team, so the improvement we saw across the group over the course of the season was massive," Duxbury said.
"
We had players of all ability levels together in one team, so the improvement we saw across the group over the course of the season was massive
— Varsity Soccer Coach Alec Duxbury
Additionally, compared to a normal 10 week season, the fall season was only about six to seven weeks and the spring season, running from March 29 to May 7, is about the same as well. This was an administrative decision to address factors of transportation, fitting in multiple seasons and maintaining appropriate COVID-19 guidelines.
"Due to the shortened season, there was no district or state playoff, but we had a couple of league playoff games at the end of the season, and we got to finish on a two-game winning streak," Duxbury said.
Furthermore, athletes are having to adjust to mask protocols during practices as well as games.
"It was great to be able to play during COVID, but it's tough to wear masks while playing tennis," said a varsity boys tennis player in an anonymous survey.
This sentiment was also shared by the cross country teams, whose cardio-centric exercises were made harder by masks.
"We often reminded the athletes that if they were feeling overwhelmed and too short of breath [they should] take a step aside on their own to take their masks down," Robertson said.
Mask wearing depends on the phase that King County is in and the guidelines in other counties where games and meets can happen.
"In the fall season, we were in phase two and these were the first sports that were back so we had guidelines such as number of spectators," Moe said. "But as the fall season was ending, there were less restrictions with phase three, so now we could be mask optional for low-moderate risk sports. But what happened is that the league won't cover our sports if we are mask optional," Moe said.
Per the Washington Interscholastic Activities Association, there are no districts or state championships for most sports, however in track there will be a final championship meet for the top 24 for each event in the league.
"We aren't offering as many events as we usually do, and we also have a limited coaching staff compared to a usual season," Robertson said.
Duxbury, along with coaches Nate Whitney and Katie Schoene, and JV coaches Darrel Marcelle and Andrew Walls have been enjoying the team aspect of the boys soccer season as well.
"The fact that they get to play is such a win, I just want to watch them lean into the physical and mental effort of competition together," Duxbury said.
Finally, looking past the spring season and into the modified winter season, basketball will surely look different this year. The season will begin May 10, and end June 25, meaning that it will end during summer break.
"It is the most high risk given that multiple teams need to be inside simultaneously, which is why we decided to put it last," Moe said.
About the Contributors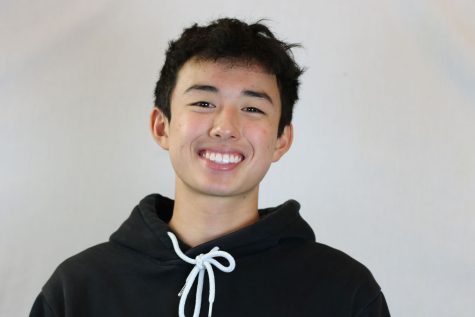 Ethan Matsubayashi, Print Editor-in-Chief
Ethan Matsubayashi is one of the print editors-in-chief of the Puma Press. He has been on staff for three years and is excited to explore innovative formats...