UPrep Tuition Continues to Rise During a Pandemic
Uprep students and families weigh the benefits of high tuition for a mainly online school
With students experiencing many changes to their education during the pandemic, one aspect has remained constant: tuition.
Across many American universities, students have organized strikes, arguing that they are experiencing a decrease in education quality, yet still, have to pay full tuition.
Independent schools across the nation continue to charge, and even increase, tuition rates for online learning. University Prep tuition rate at $38,880 for the 2020-2021 school year.
Even through the height of the pandemic, UPrep was still spending money, maintaining faculty, staff salaries, and outfitting the facilities to accommodate students.
As a private school, UPrep does not receive government funding, making the school's main source of revenue come from tuition and the annual Puma Fund.
"The expense structure in COVID is not largely different [from pre-pandemic times]," Assistant Head of School for Finance and Operations Susan Lansverk said."But, there are some additional expenses for COVID and trying to bring kids back safely."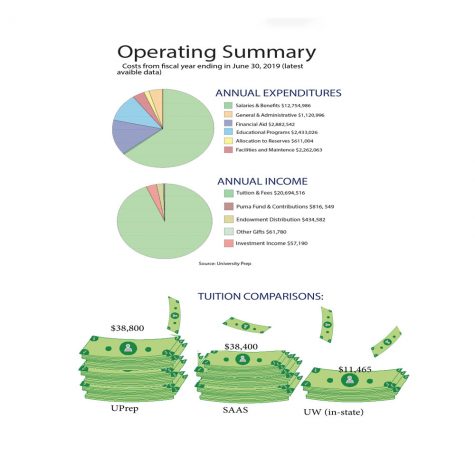 For example, UPrep upgraded air filters increased maintenance, expanded online proctoring, and implemented other COVID-19 safety precautions.
According to Lansverk, the majority of revenue goes toward paying the faculty and staff. As the COVID-19 infection rates fluctuate, teachers' salaries do not change based on their decision to teach online or in-person.
"Every year there is an increase in the salaries that you need to pay to attract the best teachers and also to retain the best teachers," Lansverk said. "In order to increase salaries, you have to increase the tuition."
Unlike tuition and general expenses, the pandemic has affected financial aid.
At the start of each year, UPrep assigns a certain budget for financial aid. In 2019, the financial aid budget was over $2.8 million, with the over-budgeted amount reinvested into the endowment.
This year, with 18% of UPrep students already receiving financial aid, according to Associate Director of Admissions and Financial Aid Alexis Ortega, UPrep received an additional 30 financial aid applications from students who were not previously receiving financial aid, which was unexpected.
On top of COVID-19 forcing UPrep to respond to increased financial aid requests, the main Financial Aid fundraiser was canceled last spring.
"We had to pivot to doing an online fundraiser," Ortega said. Despite the recent lockdown, the UPrep community was able to host a successful fundraiser.
UPrep realized the pandemic's effects early on, forming an emergency fund in order to support current students that were reapplying or applying for financial aid for the first time. This allowed families to receive the support they need while adapting to the economic changes.
"We are going to try and raise as much immediate money as we can to be responsive to this emergency situation," Ortega said. "Then we will be able to support our families, and once we have a better sense of how this is going, we can put money into the endowment."
With UPrep tuition standing at more than triple the $11,465 cost of in-state tuition at the University of Washington, families are forced to decide if the benefits of smaller class sizes and more intimate advising are worth the steep price.
Sophomore Sayre Burwell attended UPrep for middle school and currently attends Roosevelt High School.
"UPrep is very expensive, but I will say that in this circumstance, it is worth the money," Burwell said. "Public schools do not have the flexibility that private schools [have] to go back to school, which is a massive deal."
While Burwell was at UPrep, she enjoyed the strong connections she was able to make in the community with teachers and students.
"The care and effort that teachers and students put into school is felt at UPrep and you can see it," said Burwell.
Burwell left the school after seeking a new work environment. According to Burwell, she did not find the small class sizes and extra support to be vital in her education.
Burwell's former classmate at Roosevelt, Will Basinski, recently transferred to UPrep for his senior year.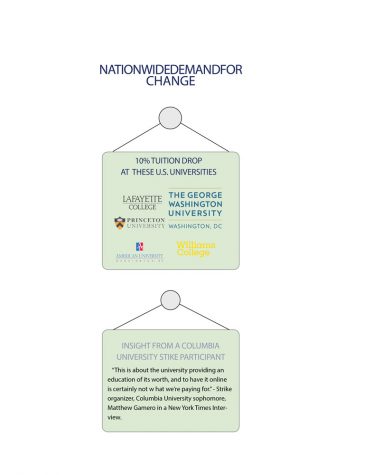 "The biggest difference I noticed between UPrep and Roosevelt [in the online format] is that the teachers are a lot more engaged in the classes," Basinski said.
Unlike at UPrep, Roosevelt taught more asynchronous classes. According to Basinski, students relied more heavily on their teacher's lecture recordings and did more independent work.
"I only had [a live] class once a week, and any other class was all recordings," Basinski said. "They didn't have [strict] due dates to encourage people not to get stressed, but it does feel more like school to be online [face-to-face] everyday."
Unlike Roosevelt, UPrep students must attend live online classes and have their camera on ensuring they are still learning during the pandemic.
"UPrep is a really good education and you feel that when you are there," Burwell said. "But I think that you will also find adults and students who put that much work into the school at public schools."
Compared to public schools during COVID-19, UPrep students are able to attend school and participate in smaller classes, but these opportunities are not free.