ATHLETES 0-1, COVID 1-0
Pumas fight hard to continue playing sports during the pandemic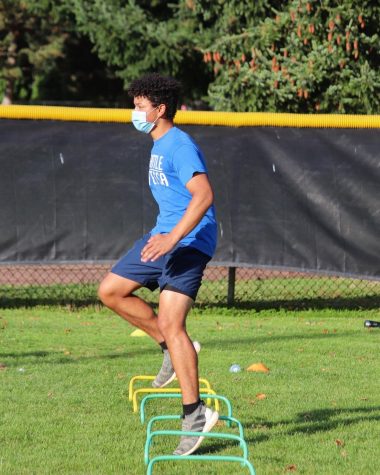 Students and coaches are still uncertain as to what this year will look like for athletics.
"It's all really up in the air," junior Henry Wright said. During the COVID-19 pandemic, student athletes have been grappling with the uncertainty of official sports seasons returning.
Over the summer and at the beginning of the school year, athletes had to train individually and had to learn to communicate with their teammates virtually.
The ability to train has varied between different sports based on access to facilities.
If not for the pandemic, junior and varsity tennis player Mattias Keaunui would be participating in his third year of tennis for University Prep right now.
"It was sometimes difficult to find a place to train because gyms were closed and many areas were locked so you had to stay creative," Keaunui said.
Varsity girls soccer player and sophomore Katherine Jackson varied her training,
"In the spring I was running about 35 to 40 miles a week to stay fit, but it varied [each week]," Jackson said.
Once club sports resumed in August, Jackson got creative by practicing footwork with her neighbor.
Athletic Director Rebecca Moe is working to ensure that athletes and coaches can return to sports safely during the 2020-2021 school year.
"I'm super optimistic because Washington State has been doing a lot to keep the numbers down," Moe said. "I feel like we are really doing a good job."
Beginning the week of September 28, the Washington Interscholastic Activities Association (WIAA) allowed off-season coaching. Schools that meet COVID-19 safety guidelines are allowed to host in-person or online sessions.
In preparation for the beginning of pod (small group) practices, Moe worked very closely with division directors and UPrep's COVID-19 task force. UPrep's first 5-person pod practice was held in the Pumadome on Monday, Sept. 28.
Physical activity aside, a major part of UPrep athletics is the bond between the athletes. With official sports seasons on hold, some feel as though they have lost the strong connection  they used to have.
Freshman Jeremy Bollag finished his seventh grade year at UPrep but moved to Israel where for his eighth grade year he attended the American International School. This year,  Bollag intended to play soccer and tennis.
"I really wanted to come back and play sports with my friends," Bollag said.
With so many unknown factors, Bollag is unsure whether he will play sports for UPrep. However, he remains hopeful that he will still be able to create the close bonds with his peers that normally come when playing sports.
Additionally, Moe has to work around the new dates for sports seasons. With basketball season set  to start on Dec. 28, the WIAA will make their decision on Nov. 18 to check whether or not it is safe to start the season. As of now, there are several official sports seasons scheduled for the winter and spring.
"In the absence of sports, I think people realize just how big it is in their lives," Moe said. "If I've taken anything away from this, it is that we run a great program and I want to get it back to where it was."