Shots, Strikes, and Solidarity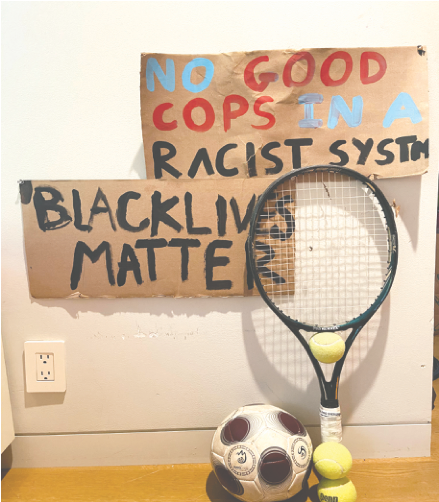 F
rom Naomi Osaka to  NBA player George Hill, athletes all over the sports world showed their solidarity amid a moment of reckoning in the United States.
"Black Lives Matter" is sprawled across U.S. stadiums, and players are showing up for racial justice. One such player is UPrep alum and defender for the National Women's Soccer League's Portland Thorns, Katherine Hopps.
  "We had many conversations about racial inequality as a team," Hopps said. "We shared resources, books, podcasts, documentaries and all wanted to commit ourselves to learning as much as we could."
Then they went public.
"The NWSL was one of the first leagues to return playing and all of us knew we had to take a stand," Hopps said. "Our team kneeled during the anthem for every single game. Many of us wore t-shirts and jerseys that showed solidarity as well."
Hopps is inspired by a new wave of activism in the sports world.
"It feels really good that our league is a part of this growing movement of athletes that are raising their voice," Hopps said. "The club was really supportive of what we had to say."
However, not all players and fans share this view.
This pivotal moment in the history of American sports has sparked major controversy over whether activism has a space in the athletic world. Many applaud athletes for using their platforms to speak about injustice, while others, like Fox News host Laura Ingraham, believe players should just play the game.
    Junior and varsity girls soccer, basketball, and ultimate player, Jane Scroggs, believes athletics are a great avenue to speak out against injustices.
"Sports reach a lot of people," Scroggs said. "The platforms that players have are a really good way to raise awareness about these issues."
For Scroggs, what makes athletes such inspiring role models is not just about how well they play, but their character.
"I really look up to WNBA players such as Sue Bird and Breanna Stewart," Scroggs said. "Not only are they incredible athletes, but they speak up about racial and gender equality, which is really inspiring to me."
To PE teacher and basketball coach James Johnson, protests and acts of solidarity have been powerful especially in these moments of racial awakening across the country.
Johnson also believes people must look beyond the performances of athletes and corporations when it comes to systemic racism and police brutality.
"These are issues that have always existed within the Black community. It's just that now we are able to actually publicize it," Johnson said. "The awareness is needed. But is this going to be effective, is it going to change policy, is it going to get more people out to vote? That's the real question."
According to Johnson, the younger generation is leading the charge toward racial justice and should be given a larger platform as well.
"I really look toward the youth," he said. "The youth are our future. They are the future of this planet. They are speaking out and we must listen."