UPrep Students Protest to Support Black Lives Matter
Provoked by George Floyd's murder, Seattelites have taken to the streets.
Since May 29, thousands of people, including some University Prep students, have crowded the streets of Seattle to protest the killing of George Floyd and police brutality against black Americans.  Floyd was an African American man who died at the hands of Minneapolis police. A passerby shot a video that circulated on the internet that showed former officer Derek Chauvin kneeling on Floyd's neck while Floyd repeatedly said that he couldn't breathe. 
For senior Nubia Robles, who went downtown to protest on May 30, Floyd's murder wasn't the only thing on her mind — she was protesting systemic racism as a whole. 
 "My goal was to show my solidarity to the Black Lives Matter movement and speak up for injustice," she said. "I think that for far too long America has labeled and profiled black and African American people as dangerous criminals with no good reason."
Senior Lillian Bown, who also attended the protest on Saturday, had a similar mindset. She believes that minority groups, especially African Americans, have been living in a country that is corrupt and that the end goal should be to rebuild the system from the ground up. 
 "[Rebuilding the system is] ginormous, that's astronomical. It's a revolution," she said.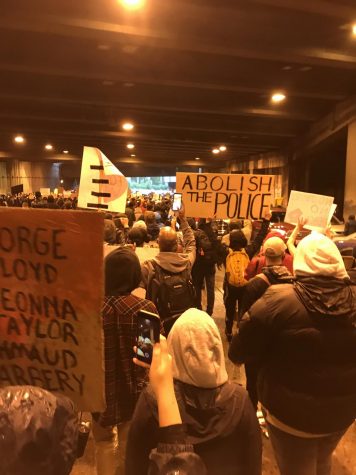 Both Robles and Bown were taken aback at the energy created by the protest, as well as the reaction of the police officers there. While many people protested peacefully, pockets of violence erupted. 
"I was in shock," Bown said. "People are getting tear gassed, lines of policemen not letting you out certain ways. They had shields, bats. They were pepper spraying, throwing stuff." 
The Seattle Police Department did make arrests as well, and released a statement the afternoon of May 30. The statement read: "Under SPD's policies relating to crowd management and review of force, any force that is used during the course of last night's event will undergo a high level of scrutiny." 
The chaos and subsequent arrests at Seattle protests, however, continued. 
Amidst the hubbub, Robles reported seeing a car on fire. Local news station KING 5,  documented one of a few such burnings. 
While not condoning violence, Bown and Robles understand why some might turn to more extreme methods of protest in order to be heard. 
"I truly don't feel like violence is the answer. But if there were ever time in history when I would say, 'This is going to be the exception' … this would be the time right now," Bown said.
Robles agreed, pointing out that rioting is usually a last resort when peaceful protests don't work. 
"I don't agree or encourage anyone looting or damaging others' property, but this is happening because people are tired and hurt," she said.  
With the COVID-19 pandemic still a viable threat in King County, both students said that most people were masked but not physically distanced. 
"If people [had] been social distancing, I truly think they could have taken up the majority of the city because there were so many people," Bown said. 
Throughout the last week, supporters of the Black Lives Matter movement have gathered to protest around Seattle and around the country. Many hope that this is the start of something bigger. 
Bown encourages those who wish to see change to keep pushing. 
"I hope people don't stop," she said. "Because truly, we fight, usually individually, for different people who have been murdered, but this has never been and won't be an isolated incident."