Student Activism Contributes to Sex-Ed Law
New law requires sexual education in public schools across Washington
On March 27, Governor Jay Inslee signed a bill requiring public school districts to teach comprehensive sexual education in all grades. Members of the University Prep community believe that, to a certain extent, this should set a standard for UPrep. 
As reflected in the text of the bill, curriculum for public school must include information about "affirmative consent," and the bill states that the education children receive must be "accurate" and "age-appropriate." The bill will go into full effect in the 2022-2023 school year. 
This is not this issue's first appearance in Olympia. Last year, according to Planned Parenthood, Washington Superintendent of Public Instruction Chris Reykdal requested that Washington pass a comprehensive sexual education bill. Representative Sharon Tomiko Santos, however, opted not to hold a vote on the bill, and it died.
Librarian Leah Griffin believes that since students can't vote, it's important that they voice their opinions on issues like this that affect them. One way to do this is legislative lobbying.
Sophomore Tessa Peterson lobbied for the sex-ed bill over Martin Luther King Day weekend with Teen Council, an organization that is a part of Planned Parenthood.
"There's a lot of Teen Council members who were testifying and giving witness examples and witness statements for times that comprehensive sex ed benefited them and how non-comprehensive sex ed hurt them," Peterson said.
Social Emotional Learning Coordinator Emily Schorr Lesnick thinks that social emotional learning lays the groundwork for deeper conversations about sexual health when students get older. 
"
This is your life, this is your body, your health.
— Social Emotional Learning Coordinator Emily Schorr Lesnick
"I believe you're never too young to start conversations about health, about consent, about wellness, about sexual health," Schorr Lesnick said.
Griffin agreed and said that the bill did not teach younger children about sex in an "innapropriate way." Schorr Lesnick agrees with Peterson and Griffin about the importance of student voice.
"I think you all should be really active," Schorr Lesnick said. "This is your life, this is your body, your health."
Physical education teacher Nate Whitney, who teaches the freshman health course, is helping create a new seventh grade health curriculum.
"Since I got to UPrep, there's been a real big push for consent education, so now there is consent education in ninth grade," Whitney said. "It's going to be in the seventh grade curriculum as well. What is that gonna look like? I don't exactly know yet."
Consent and all sexual health looks different for different types of people. The bill addresses LGBTQ inclusion and consent education. Schorr Lesnick emphasized that LGBTQ students often feel like sex education doesn't apply to them or isn't helpful to them.
To ensure that student voices are represented, students can advocate for topics that are important to them.
"I'm so impressed with the leadership and activism of UPrep students and I know that they made an impact on [this piece] of legislation," Griffin said. "I'm looking forward to the changes that are coming."
Removing the Period Tax
On March 7, the state senate also passed a bill removing sales tax on menstrual products in Washington state.
Sophomore Tessa Peterson believes, "Menstruation isn't a choice. It's something that happens."
Menstrual products include sanitary napkins, menstrual cups and tampons. With the governor's approval, this exemption from sales tax will go into effect on July 1. Although it might be popular to be in favor of this bill, physical education teacher Nate Whitney likes to play devil's advocate when talking to his students.
"A tampon is not a choice … and the argument is, 'Why are they taxed?' I always push back a little bit and I go, 'What are other products that we need to have that are not taxed as well?' Those should not be taxed either," Whitney said.
Both Griffin and Schorr Lesnick believe strongly in this bill.
"I think the legislature made a good call in removing this discriminatory tax," Griffin said.
Schorr Lesnick thought of the big picture.
"If somebody doesn't have money — maybe they're living on the street and they can't afford tampons — that's a sanitary issue," said Schorr Lesnick.
About the Contributor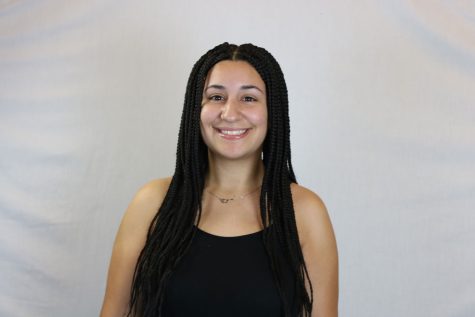 Sydney Goitia, Print Editor-in-Chief
Sydney Goitia-Doran is one of the print editors-in-chief of the Puma Press and she has been on staff for four years. Her favorite types of stories to write...