Tackling Teacher Diversity
How representation empowers students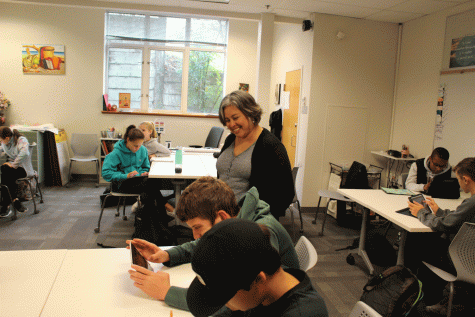 Chances are, if you are sitting in a University Prep classroom, you are probably being taught by a white teacher. Despite initiatives in hiring and admissions to attract more diversity in the classroom, the teacher population at UPrep remains overwhelmingly white.
 According to the Diversity and Community Office, students of color make up 35% of the student body while teachers of color constitute 30%. Some students of color rarely, if ever, will have a teacher that looks like them. 
"I don't think I've ever had a black teacher," senior Hibak Hassan said. 
Hassan believes that having a diverse teaching staff is inspiring and helps students see themselves and their own potential. 
"It's very powerful to see someone that has the same identity as you be in a powerful position and be someone that you look up to," Hassan said. 
UPrep has a strong commitment to improving diversity and inclusion. Yet, this commitment is ongoing, and a lack of diversity can be especially apparent at certain times. 
"I think about race a lot in the classroom, especially in the beginning of the year, going into a class being the only black girl or even sometimes the only person of color in the room," Hassan said. 
Spanish teacher Alma Andrade thinks her perspective as a Latina teacher allows all her students to see her as a person and more than just their teacher. 
"For some of my white students, I think they enjoy learning about my culture. I think probably some kids don't care, but that's okay. They don't care about a lot of things. I think with students of color, even though we may we might not share the same culture, there might be a different connection," Andrade said. 
In addition to teaching, Andrade helps with UPrep's Latino Family Bridge where families learn and ask questions about UPrep programs in Spanish. 
 "Students need to see someone that looks like them. And someone who they can relate to. Students are our focus here. I know they try, but I don't think [teacher diversity] is something we talk about often," Andrade said. 
Associate Director of Diversity and Community Jill Leahy, in addition to working with students, helps teachers and staff through professional development, affinity groups and conferences.  
"Something that we really look at is how we retain staff of color and make sure that there are programs that support them. We currently have a POC and LGBTQ+ affinity groups," Leahy said. 
Furthermore, representation is important when looking at department and leadership roles. Leahy also pointed out the importance of intersectional representation.  
"If you look at how many teachers of color there are there versus staff, and then think about what level they teach at, how do we create more representation in higher positions?" Leahy said.
Science teacher and department head Moses Rifkin also believes that teacher diversity in race, gender and beyond helps students.
"Teaching in general skews female, but teaching in STEM tends to skew male," Rifkin said. "So having gender equity and gender balance among the stem faculty is really amazing."