Ax to the Max
Newly opened Blade & Timber offers a new, engaging way to relieve finals stress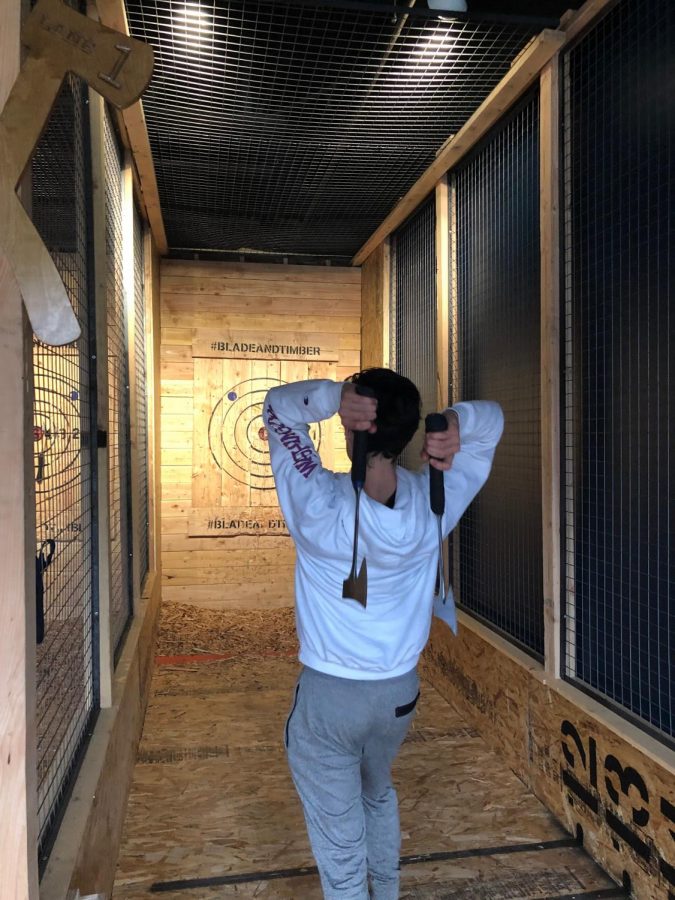 There's just something so relaxing about the sound when you throw an ax perfectly into a wall, you know?
When I walked into their Capitol Hill location, it was immediately clear that Blade and Timber takes ax throwing seriously.
Blade and Timber (with a — wait for it — five star rating on Yelp) operates out of a space that, while still clearly a work in progress, provides as comforting a place as any to hone your ax-throwing skills to perfection.
The company opened in the middle of March. When I arrived and checked in, someone on the staff led me to one of many ax-throwing lanes that they had available. I made reservations on their website, bladeandtimber.com. Each lane is 15 or so feet long, and has what looks like chicken-wire as barriers on either side — so don't worry, it's pretty unlikely that you'll get axed in the head.
Sophomore Brandon Rosenberg, for one, loved ax-throwing. "It's like high stakes darts," Rosenberg said. "It's a really good way to experience the life of a serial killer."
The thing that impressed me the most, though, is how much trust Blade and Timber has in their customers. After they taught me how to throw an ax properly, they just left. I was on my own. That's why I signed the waiver, I guess.
A pamphlet is available full of different ax-throwing games to play. I was free to play towards a total of points, play for a set amount of time or play so that everyone has an equal amount of turns, with the highest score winning in all cases.
"
"It's a really good way to experience the life of a serial killer""
— Sophomore Brandon Rosenberg
But, as Big Sean in his infinite wisdom taught us, I always had to think about the bounce back. That's because, if at some point I wasn't lucky enough to get the ax lodged in the wall and I threw it hard enough, that ax could be coming right back at me.
Usually, the ax doesn't go that far — it almost always lands in a pile of woodchips right underneath the target. The ax could, however, take a skid across the plywood floor, so I had to watch out for my feet.
At the end, they have an option to actually take home the board in the center of the target, as a souvenir (although it costs $8). Of course, I did this — the journalism room needed some decoration.
Each person per one lane is $24. Lanes are shared but we still had to pay for each person in my group. Private lanes are available, although those are much more expensive (they would be worth it, though, if we were going in a larger party).
Sodas and chips are available for purchase, and they aren't too expensive.
Everyone has to sign a waiver — minors (18 and under) need parental permission, and minors in a group need at least one parent or guardian.
Overall, Blade and Timber is a great place to have fun and even relieve stress — just as long as you're careful.