In the Director's Shoes
Michael Lu steps off the stage to direct student produced work "Melancholy Play"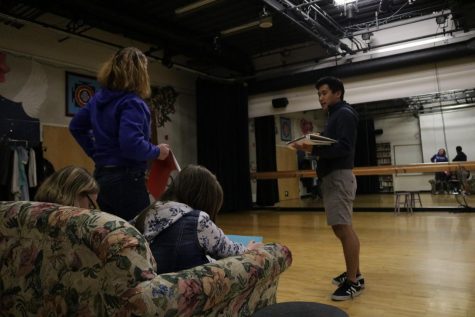 Senior Michael Lu, director of the upcoming student-produced work "Melancholy Play," believes theater is best when actors embrace the weird, awkward and downright absurd. 
Now in his fourth year of musical productions at University Prep, Lu brings this perspective whether portraying a "lord of the underworld conceptualized as a toddler" in "Euridice," celebrating the quirks of "Secret in the Wings" or directing "Melancholy Play," a show incorporating anachronistic costuming.
Lu feels that audiences should not come with  preconceived notions about what a production might be like.
"I always feel like when you hear about a show, you always think, 'I am never going to be able to relate to this. This is just too weird. I'm just not gonna get it.' But honestly, some of my favorite shows are shows that I haven't understood," he said.
First a singer, Lu was drawn into the creative acting process after taking part in the student production of "Fantasticks" in ninth grade. 
"I've always liked singing, so that was kind of like my entry point into it. After that, I realized I liked getting in character; I liked trying something new," he said.
He followed his new interest to participate in the University Prep mainstage production "The Music Man" during his sophomore year and later to join companies of local theater performances of shows, including "Rent."
Lu, now directing "Melancholy Play" by Sarah Ruhl, has been in several local theater productions at the Fifth Avenue and Seattle Children's Theater, and he's involved with the local theater nonprofit 14/48. 
He first began acting in the setting where he is now leading fellow students and cast members: in a student-produced work during his freshman year.
"Student-produced works launched my theater-doings. It sort of launched this whole passion," he said.
Over the past semester, Lu has stepped out of the spotlight to direct his peers in "Melancholy Play," which he described as a work of realism "except with some random absurd elements that just pop up throughout the show." The show centers on the antics of Tilly, a bank teller.
Lu has worked on the show since the beginning of the spring semester, rehearsing every day after school for two hours with the cast of fellow students.
Looking forward, Lu is unsure how his love of theater will manifest in college and beyond.
"I definitely plan on being involved in theater, whether it's professionally or academically or just for fun," he said. "I'm currently leaning toward just for fun, but I don't know. We'll see."
Students and community members can see Lu's final UPrep production at "Melancholy Play" on May 24 and 25 in Founders Hall.