Forest Fires: A Local Concern
May 22, 2019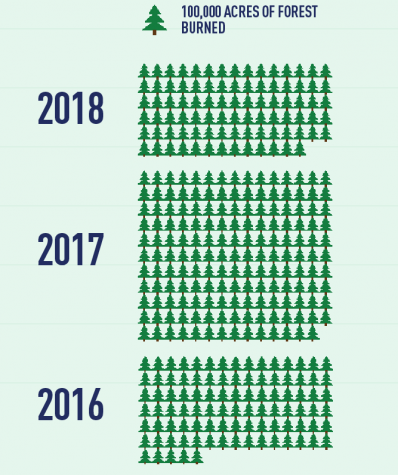 Forest fires target states like California and Washington, as well as other areas of North America. These fires not only cause devastation to the area, but also kick smoke into the air that floats for hundreds of miles.
Seattle had intense smoke in the late summer of last year. The Seattle Times reports that the smoke probably originated in Canada, but was blown south of the border to Seattle.
Those at risk include California had a historically bad year in terms of wildfires last year — according to a state government site, 3 of the top 20 largest fires (in terms of acreage) in the state's history happened last year in 2018, and accounted for more than 800,000 acres burned.
One fire alone, the Camp Fire, was responsible for the destruction of more than 18,000 structures.
In the United States, tens of millions of acres of forest have burned in the past few years, as illustrated. Each row of trees represents 1.4 million acres of forest.