UPrep Campus Closed
All in-person classes across Washington have been closed due to the coronavirus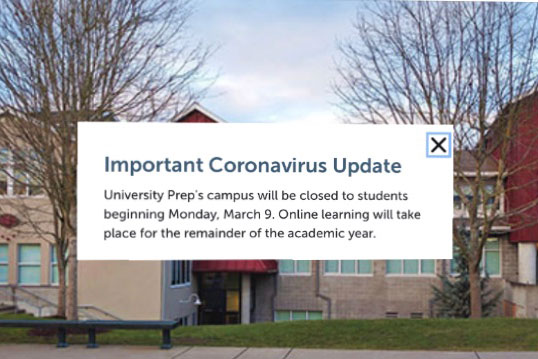 Governor Jay Inslee has ordered schools across Washington to remain closed for the rest of the school year.
This order came on April 6th during a press conference in Olympia, Washington. 
"All public and private K-12 schools in our state will be stopped from providing traditional in-person instruction through the end of this school year in June,"  Inslee said.
The school closures are a way of slowing the spread of the coronavirus and flattening the curve.
 "We are attempting to do everything humanly possible to slow the spread of this virus," Inslee said.
With the closure of in-person classes, UPrep and other Washington schools have switched to online learning to carry out classes for the rest of the year. 
"We will continue our online classes through the last day of school on June 12," Middle School Head Susie Wu said in an email regarding the extended school closure.
While many students agree that it is important to stay at home to stop the spread of the virus, it can be hard to be unable to go to school. 
"I never realized how much I would miss school," eighth-grader Michaela Klease said.
Many students are finding it hard not to be able to see their friends.
"I'm happier when I get to see my friends and it's easier to talk to them in person," eighth-grader Augie Goldberg said. 
The closure of school has come with the conclusion of many activities students normally participate in, including school sports, which have stopped for the rest of the year as well. 
"All of the sports I play have been canceled, and they are normally a big part of what I do every day," sixth-grader Sonya Carter said.
Eighth-graders who aren't returning to UPrep next year are finding it harder to not be able to finish their time at UPrep the way they were expecting.
"I am really disappointed that I won't get to go back to UPrep since I won't be going there next year. There are many friends and teachers that I won't get to say bye to," eighth-grader Sophie Biernacki said.
While many students and teachers hope to return to school in the fall, even if we do return, it is very likely that it will come with strict guidelines.
"Nobody thinks we are coming back to school in anything that doesn't still look like social distancing," State Superintendent Chris Reykdal said.