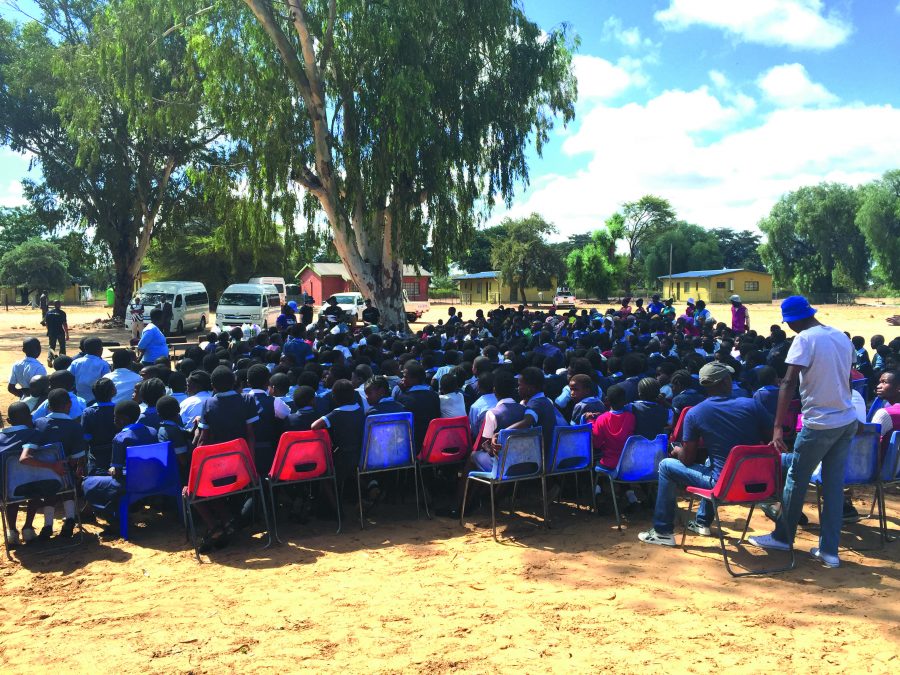 Botswana taught me more than I ever expected
University Prep is privileged. Our privilege is hard to see because it's so ingrained in our minds. On my trip to Botswana over spring break, I saw my privilege. We spent most of our time in a high-end private school called Maru-a-Pula. One day though, we went to a remote village to distribute used shoes to children who didn't have any. Just getting there involved one hour of driving on an unpaved road. We drove next to cows, through weeds, and over rocks. It was the most painful drive of my life. The people who live in this village have to go through this path every time a hospital visit is needed, and they travel on a cart rather than a car.
We reached our destination, and stepped into the heat. More noticable was the 500 little kids waiting for us. They all sat on broken, plastic seats in the dirt and none of them were able to hold in their coughing. As we came, the little kids, started singing for us in Setswana. It was beautiful.
We spent two hours organizing 800 pairs of shoes by size. All the shoes was "used." Most of them were clearly the type of shoes you sit there thinking, "Hmm are these too bad to donate?" Some had holes, some had lost their color, some were a little broken, but all were wearable. Not something you and I would wear, not something you and I would really want to touch. But these shoes…they were someone's greatest gift.
The students lined up by grade, all eagerly trying to look over each other's back to see their new shoes. Their uniforms were lined with dirt, just like their school was lined with goats. They've never even seen running water. For these kids, having a drought literally means no more water. Sorry, California try again: Kylie Jenner is still running her sprinklers with your drought.
We prioritized the kids wearing no shoes, to make sure that they could at least have one pair. I held the hand of the first girl I was going to help. "Hi, I am Meher. What's your name?"She looked up at me and smiled. She knew no English, she had no idea who I was, she just knew she was going to get her shoes.
I looked at her feet. She had to be just five years old, but her feet, they were not a five- year-old's feet. They told me the story of how she walks to school every day. They told me the story of how she walks her three mile trek on an unpaved road. They told me the story of  how she did this completely barefoot.
At UPrep, we're all privileged. We might not be as privileged as the kid sitting next to us, but we're still privileged. As soon as I came back, I broke my phone and had to go back to my old, broken iPhone 5s for a week until I could get my phone fixed.
When I heard that news, I sighed and rolled my eyes. I mean it sucks, I lost all my contacts and I lost my place in Candy Crush. I remembered to check myself. I may be back to level 1 on Candy Crush, but I still have shoes on my feet. I have running water. My problem isn't a "problem." We're lucky. First world problems aren't real problems.
By Meher Seera